Leading the Way for USDA-ARS in the Southeast Area
By Becky Gillette • Photography by Johnny Jennings
L eland native Archie Tucker started out as a sixteen-year-old high school student working as a biological aide in the Southern Insect Management Research Unit at the USDA Agricultural Research Service (ARS) at Stoneville. He rode his bike five minutes to work that involved rearing large numbers of agricultural pests in a controlled environment—something that hadn't been done before—which involved developing an artificial insect diet, and determining appropriate environmental conditions such as temperature, lighting, and humidity. The purpose of the project was to rear large quantities of insects to be used by entomologists in field studies across the Southeast and in the Virgin Islands.
"I was always fascinated by doing things that have never been done before," says Tucker. "I was working around all these Ph.D. scientists and people from all over the world. It made me hungry for working in that kind of environment."
After graduating from Leland High School, he earned a B.S. degree in business administration from Mississippi Valley State University (MVSU). Then he spent the next forty-seven years working at the ARS in Stoneville climbing the ranks to serve as Biological Laboratory Technician, Area Property Management Officer, Assistant Area Director, Deputy Area Director, Area Administrative Officer, and Associate Area Director. He is now Area Director for the Southeast Area of ARS headquartered in Stoneville, which covers nine southeastern states and Puerto Rico. He oversees the work of 1,542 full-time personnel including 482 Ph.D. scientists at twenty-seven different research locations with an annual budget of $325.5 million.
National ARS Administrator Simon Liu, Ph.D., says Tucker wears many hats with great success.
"He is particularly skilled at partnering with our stakeholders," says Liu. "He always wants to learn as much as possible about the issues that are important to them and figure out how ARS can help solve those issues. He also has a firm commitment to working with schools and universities to train the next generation of scientists and support staff who will be needed to ensure ARS continues to excel at supporting farmers, consumers, and industry regionally and nationally."
Liu says they are extremely lucky in ARS that Tucker has chosen to spend his entire working career in public service. Liu admires that Tucker has always demonstrated a high level of political savviness, which is essential for advancing the ARS mission, and always goes the extra mile to get the job done.
"As the Director of the ARS Southeast Area, he is responsible for ensuring ARS studies address agricultural production issues in the U.S. Southeast, but he also ensures that this work supports the goals of the agency throughout the country," says Liu. "He knows that regional research efforts can provide benefits throughout the U.S., and vice versa."
Tucker is the first African American in the history of USDA-ARS to hold the positions of Area Administrative Officer, and Deputy Area Director. He credits good mentors and role models with having a strong impression on him. Those include Dr. Edgar King, who hired Tucker when he was sixteen years old. King has been pleased to see Tucker progress up the ranks in ARS.
"Archie's advancement is unprecedented in ARS, evolving from a part-time student worker to become the director of the Southeast Area," says King, retired Area Director of the ARS Mid South Area. King currently works as an American Sugar Cane League consultant. "He is very well thought of and valued within the agency. Archie is a unique individual. I've always been impressed with his high-level of character and integrity. I could always depend on his guidance knowing that what he told me was accurate and ethical; he always followed up on what had been agreed upon. It was a real pleasure to work with him at ARS for thirty-nine years."
King says Tucker has the people skills and programmatic knowledge to successfully, directly or indirectly, supervise over 1,500 ARS personnel while simultaneously successfully interacting with university administrators and commodity stakeholders.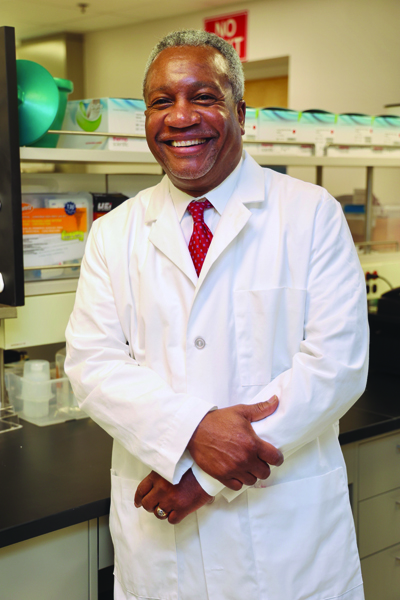 "Archie is smart," says King. "He leans on scientists who have deep knowledge of specific research subject matter to help him make specialized scientific decisions. Ultimately, Archie is the one who synthesizes the information and makes the decisions. To be able to handle all aspects of highly complex programs successfully is remarkable. Undoubtedly, Archie is ARS's best area director."
Tucker also credits the help and example of Dr. Tom Army, who also was the Area Director of the ARS Mid-South Area.
Colleagues who have worked with Tucker a long time admire his leadership skills. Dr. Jeff Gore, who heads the Mississippi State University (MSU) Delta Research and Extension Center, has known Tucker since 2002 when Gore came to the Delta fresh out of graduate school at Louisiana State University.
"The most impressive thing about Archie is that it doesn't matter if you're a janitor at one of his facilities or the Secretary of Agriculture," says Gore. "He treats everyone the same and gives them all the same level of attention and respect. Archie has been a mentor and friend to me for many years, and I greatly value his advice and leadership. I am sure that you could talk to hundreds, if not thousands, of people who have worked at Stoneville who would all tell you the same thing."
Gore says it is pretty remarkable that a man with a B.S. degree is leading one of the largest agricultural research organizations in the world.
"Archie is a shining light for Historically Black Colleges and Universities," says Gore. "He is a legend among USDA employees, not only in Stoneville, but across the country. I have had a great working relationship with Archie for many years and he is someone that I want to model my leadership abilities after. Above all that, I am proud to call him a friend. Archie has a unique ability to be compassionate when needed, but also be tough when needed. He is the ideal boss in that he knows how to read people and how to treat people."
Tucker's favorite part of the job is being involved in helping solve ag producers' problems.
"We focus our research on improving net profit by increasing productivity while reducing input costs through better management practices and developing high yielding crop varieties," says Tucker. "Another high priority is making sure all our employees are working in a safe and healthy environment. I want to ensure that every employee is treated with dignity and respect, and make sure we are hiring the best and brightest people."
Early in his career, Tucker did research on the tobacco budworm, cotton bollworm, and corn earworm, major insects that destroy top crops in the state and region including soybeans, corn and cotton.
A current major research effort is groundwater management. Declining aquifers and inadequate surface water supplies for agriculture are a problem in many areas of the country.
"Mississippi, for example, gets plenty of water, but not at the right time of year," says Tucker. "We get a lot of rain in the spring, and then it dries up in the summer when the crops need water. Producers irrigate in the summer taking water from the aquifer, but there are concerns about water levels dropping in the aquifers. We are trying to find ways to transfer water back into the aquifers. We have a number of projects underway looking at that. Many of the producers are voluntarily working to conserve water usage. Our research is looking at how to irrigate more efficiently. How do we use precision agriculture to know when and how much water to put out? Sensors can show farmers what areas need to be watered and others that don't."
Precision ag also can save costs and reduce environmental impact by allowing producers to use pesticides and herbicides only where needed. Sensors can indicate hot spots for weed and pest control. Tucker says it saves a lot of money if a producer has to spray only 200 instead of 1,000 acres. It also keeps insects from developing resistance to pest controls.
A huge issue in ag this year has been avian influenza, which has decimated production of eggs, chicken and other poultry. Tucker says it is a critical situation in multiple states right now. Tucker is particularly proud of a new $155-million Southeast Poultry Research Laboratory in Athens, Ga., which is conducting research on avian influenza and other diseases that affect the poultry industry.
Other research priorities include pollinator health, cotton ginning, catfish genetics, crops genetics, poultry, blueberries, genomics and bioinformatics, which helps accelerate breeding programs.
"We have all kinds of DNA sequencing machines and other sophisticated equipment where we can get information at a gene level for traits of interest," says Tucker. "It is amazing technology. We are also looking at artificial intelligence (AI) in agriculture, which is relatively new. The difference between precision ag and AI is mainly using high performance computing technology and modeling to assist our farmers."
It is not necessarily a natural progression to go from research to administrative leadership. "But I wanted to be part of management and leadership," says Tucker. "It worked out for me. I feel like I have been able to make a difference and bring new programs to the table."
Tucker has completed extensive management training at the American Management Association, the USDA Graduate School and the Key Executive Leadership training program at American University in Washington, D.C. His numerous honors include the 2022 Presidential Rank Award, the Distinguished Alumni Award for 2005 from Mississippi Valley State University. During the 1999-2000 school year, Tucker was selected by the State Board of Education as the Parent of the Year for the State of Mississippi.
In 2015, Tucker received the Abraham Lincoln Award for exceptional achievement and outstanding contributions to American Agriculture. In 2019, he received the Delta Council Achievement Award for Outstanding Contributions to Aquaculture.
Tucker has been married to Beryl Amos Tucker for forty-one years. Their son, Dr. Archie Tucker, II, is Senior Vice President for Advancement at the University of Texas at Tyler. He is married to Veronica Tucker, and they have two sons, Jordan, fifteen, and Austin, eleven. Their daughter, Ashley Tucker Patterson, is Business Manager, Southwest Region, Mississippi State University Extension. She is married to Ken Patterson, and they have two daughters, Alana, five, and Morgan, six months.
For recreation, the Tuckers enjoy tailgating at MVSU games and attending blues shows.
For more information about ARS, visit www.ars.usda.gov.