Takes the Reins as Delta States Ninth President
By Jack Criss • Photography by Campbell Saia
Dr. Daniel J. Ennis officially stepped into his role as Delta State University's ninth president on June 1 after being officiall hired in March. Ennis comes to DSU from Coastal Carolina University, where he most recently served as Provost. He takes over for DSU Interim President, E.E. "Butch" Caston.
When asked about his first week on the job, Ennis says, "I'm so pleased. Everyone has been so welcoming and helpful. I've been surrounded by people wishing me luck, asking what they can do to help. It has been quite remarkable."
A South Carolina native, from a town about twenty miles from Charleston called Summerville, Ennis grew up in what he calls the low country.
"It was a small town and a lovely place to grow up in," says Ennis. "We had a Piggly Wiggly, a main street, and a train track that ran through—it had that kind of traditional feel. Friends I made there in school I still have today. My first paid job was as a stringer writer, covering football all over the state for the Charleston Post and Courier and I still have my first pay stub from 1986, as a matter of fact! $25 a story."
From this early experience, Ennis thought he would pursue being a sportswriter for a vocation. However, after beginning his secondary education at the College of Charleston, he decided to be an English major and found other interests outside of sports.
"In my senior year, I made the decision to pursue my Master's Degree at Appalachian State in Boone, North Carolina," he says, "because—to be honest—I wanted to live in the mountains. And that's when I began to lean towards an academic career. I was a first-generation college student: my dad had been in the Navy, later becoming a firefighter, and my mother was a homemaker—so academics were not in my background. But, I started enjoying the process and decided to go for my doctorate."
That led Ennis to Auburn for the next five years where he received his Ph.D.
"I loved it there and had some great professors," recalls Ennis. "My focus was on British Literature because I really appreciated my professors in that department and my doctoral dissertation director, an instructor named Paula Backsheider, a prominent scholar and a wonderful mentor to me. She was tough, but that's what I needed to get a professorship. My doctoral thesis was on literature of the sea, of all things: works like Robinson Crusoe, Gulliver's Travels, Moby Dick, et al., and that thesis eventually was published, which was something Paula stressed in order to advance in academe."
Ennis then entered the academic job market—which was, and is, very strenuous and time consuming, especially with such a specialized backgroud as he had—but lucked out with an offer from Coastal Carolina University in Conway, South Carolina, that was looking for a British Lit specialist. "After two rounds of interviews, I took a job at the Univeristy in 1999 and stayed there for twenty-four years, obtaining tenure and becoming a full professor and department chair," he says.
Becoming an Associate Dean at Coastal Carolina University also followed and, by then, Ennis' career trajectory seemed to be set in place.
"I became an Interim Dean for one year and then was named Dean of Humanities and Fine Arts which I oversaw for seven years, and that was a major step," he says. "There were about 2000 students under me in that role—it had grown substantially over the years."
Other offers came in from around the country, Ennis admits, but the fact that his children were settled in school—and Coastal Carolina would make counters—he remained at the University.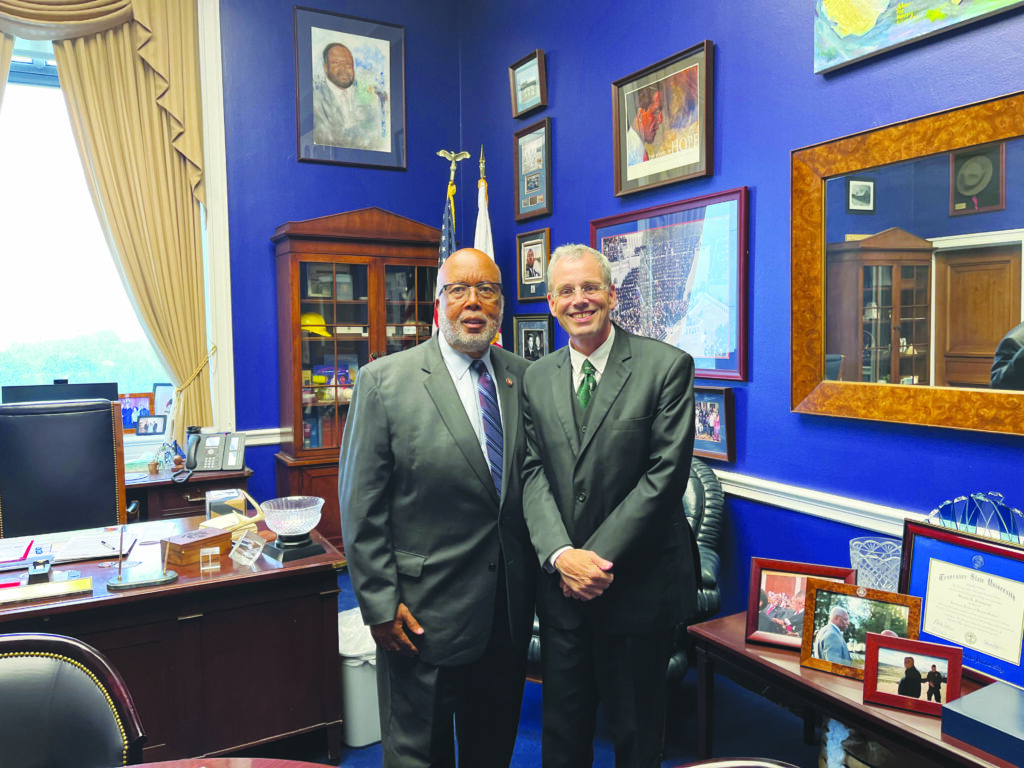 "I wasn't actively looking, but others were," he says. "But, I ended up staying at Coastal for twenty-four years and they were all quite wonderful. I could have possibly retired but, thankfully, did not. That's about the time Delta State's opening came into play—and I applied for the job of president."
Ennis admits he didn't know much about Delta State University initially, but he threw himself into learing as much as he could about the school…and the state of Mississippi and its culture and history. "I studied hard," he says. "And, had my first interview in Jackson. Before that, though, on my way to the interview, I made a detour and 'snuck' into Cleveland, including the DSU campus, the Grammy Museum and some other places for about four hours, walking around in a golf shirt and khakis—I loved the vibe. I wanted to get a first-hand feel of what I was possibly getting into, and it was so wonderful—I felt at home. No one had a clue who I was or what I was up to, but they were so nice to me. They made a big difference."
After his first interview, Ennis returned to South Carolina, showed his wife photos of Cleveland and then? A second phone call came through.
"I was told I was a finalist," he says. "It became real and serious, then! I notified my references that they were going to be getting called and prepared myself mentally and intellectually to get ready for round two. My wife, Jennifer, came with me and I think she was the one who wowed everybody at the second interview!"
After a few days, Ennis was made the official offer to become the new President of Delta State University. That was on a Friday. He responded in the affirmative the following Monday—and he was excited.
"It was hard to leave my homebase, honestly," admits Ennis, "but the opportunity was just tremendous. To have the opportunity to lead such a fine institution like Delta State could not be passed up."
Ennis said that he has been quite impressed by the community's investment on and off campus—both the actual Delta State faculty and staff community, and the people of Cleveland and Bolivar County.
"And, I committed to the values of this University and this community," he says. "There are many challenges, of course. But, I'm a fighter. I will do all I can to make Delta State more visible in the future for potential students all over the country.
"With the community behind you, that makes everything so much easier. It makes recruitment easier. If we need help, if we need support, there are a bunch of people lining up to help Delta State succeed," he says.
Ennis says he plans on being very deliberate about learning the lay of the land before making any kind of policy decisions going forward in his new role. He emphasizes that he wants to have a clear picture of the state of the University and the input of all stakeholders before embarking on any course of action on his own. Consensus is key.
"I want the community to know that Delta State's future is bright and is well positioned to succeed," says Ennis. "The community and the university are going to be linked arm-in-arm, and I'm so glad to be here. I wouldn't want to be anywhere else right now."
The new President will be joined in Cleveland by his wife, Jennifer—a speech pathologist who he met while in college when both were summer camp counselors and were married in 1994—and his eldest daughter, Katie. Katie recently finished her master's degree at Auburn, and the younger Ennis daughter, Caroline, is moving to Birmingham to begin graduate school at the University of Alabama in Birmingham.
"I want to reach as many students as I can—here in Mississippi and throughout the nation—to see what a great educational option Delta State University is and to consider attending here, and I believe we will," says Ennis.
"As I have learned more about the university, the Delta region, and the state of Mississippi, I have been inspired by the history, culture, and resilience of the people with whom I will soon work and live," Ennis said in a press release. "I am committed to helping Delta State University continue to thrive, and my wife and I look forward to becoming members of the community."