Successful Businessman and Equitable Entrepreneurship Advocate
By Becky Gillette
Joe Stinchcomb got into the food and beverage industry after graduating from the University of Mississippi and getting a job as a debt collector. After being laid off, he got a back-of-the-house job at Proud Larry's in Oxford.
"That is where I fell in love with the restaurant industry," says Stinchcomb. "Then I became beverage director of Saint Leo for five years. After that, in October 2021, Ross Hester and I started Bar Muse, which we describe as a neighborhood bar meets a high-end cocktail bar, inside the Lyric Theater. We also opened the Good Day Café. It was during the pandemic. We wore masks and were in a small space of only 256 square feet."
The Covid pandemic was extremely tough on the restaurant and beverage industry as business nosedived because of lockdowns related to concerns about being exposed to the virus. Many businesses didn't survive. But Bar Muse and the Good Day Café have survived and are thriving after two years in operation.
Simple Southern hospitality is one of the secrets to success.
"We want to make sure everyone feels welcome," says Stinchcomb. "We source local ingredients when possible. One of our cocktails for the summer is Mind Your Pecans and Qs. We source pecans from a local grocery store and smoke them at a local restaurant. It is a good embodiment of Oxford. We buy the ingredients locally, use neighbors to smoke them and we sell something special to the community."
The six signature cocktails also include bourbon, lemon juice and Amaro Montenegro liqueur and McNulty's Tea with Earl Grey–infused Irish whiskey, amaro, cinnamon, lemon, and egg. There is also a selection of wines by the glass.
The Good Day Café offerings include vegan and vegetarian meals. The fourteen-seat outdoor restaurant is open Wednesday through Saturday from 11:00 a.m. to 3:00 p.m. They do lunch only because the space is a music venue that hosts weddings and other events with live music.
"The response has been overwhelming," he says. "It has almost been an embarrassment of riches the way the community has supported us and loves what we do. We couldn't ask for anything more from the community than what they have done, which is coming out and enjoying themselves at Bar Muse and the Good Day Café."
The businesses have received national attention including a story in Imbibe, being named as one of the Top 20 New Bars in the U.S. by Esquire in 2022. And Stinchcomb was named the 2019 Smith fellow from Southern Foodways.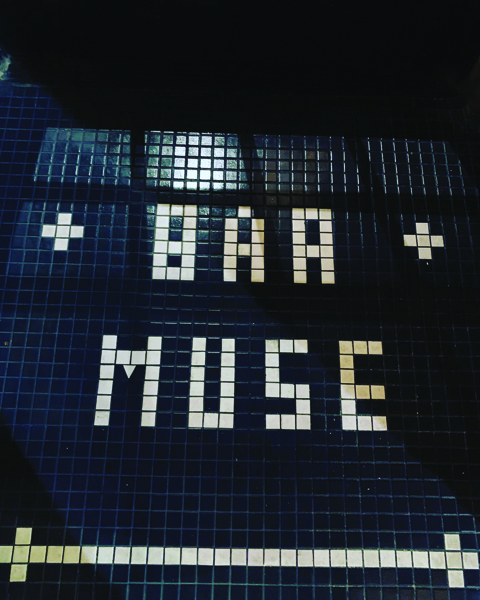 While he was delighted with the success of Bar Muse and the Good Day Café, Stinchcomb had noticed that there were no minority-owned businesses on the Square in Oxford. He felt that didn't adequately represent the diverse population that lives in Oxford. He started considering what it would take to change that. He ended up being one of the founders of Equitable Entrepreneurship, a mentoring and financial literacy program to help minority businesses succeed.
Stinchcomb received a $5,000 Pebble Grant as part of Builders + Backers' Idea Accelerator program, a nationwide program which provides funding, training and assistance to help entrepreneurs put ideas into action. Stinchcomb has been using the grant money to bolster the underrepresented Black business population. He sees equitable entrepreneurship as a cornerstone of any thriving community. "If there is no equitable community, then it's not a community," he says.
The grant was used to create a networking and leadership program to assist minority business owners. Then they partnered with the local Chamber of Commerce to formalize the class and develop the curriculum so the class and culminating dinner/conversation event could be replicated throughout the State of Mississippi.
Partners in the Equitable Entrepreneurship project include Castel Sweet and Sha Simpson. The group meets a couple times a week to decide what they can do to make the community better. They are also applying for more grants. They are planning an event this month to help raise funds and awareness of Equitable Entrepreneurship and get more people involved."
How does he find time to be an entrepreneur while also promoting other entrepreneurs? Stinchcomb credits a great staff who wants to come to work, teach and learn.
"Our staff is very, very good and accommodating," says Stinchcomb. "We have a small staff, five including the two owners. Everyone is professional. I'm still there just about every day. It never stops. I don't have kids, but these businesses are like my kids. There are no off days. There are always things that constantly need to be tended to."
Yoknapatawpha Arts Council Director Wayne Andrews said he believes the attention that has been generated by Joe's efforts is what people hope to see in their own community.
"Joe is someone whose passion is rooted in who they are as a person," says Andrews. "His passion has brought success, and his vision extends beyond him into his community. I think people want to be an active part of making change within their community – however, they define community."
Andrews says communities are beginning to view the questions of economic development, quality of life, and talent attraction as all parts of the equation that result in a thriving community. "I think seeing grassroots ideas being adopted, as Joe's efforts have been in Oxford, is inspiring others to recognize they can make an impact in their communities," he says.