Heads Largest Privately-Owned Hotel Group in the State
By Becky Gillette • Photography by Johnny Jennings
Sarah Ozbun moved to Greenville in June 2012 after taking a reporting job with the Delta Democrat-Times. It was a job she liked, moving up the ladder from city reporter to accent editor before becoming managing editor from 2016 to 2018. Unfortunately, the writing was on the wall about the decline of community newspapers in part due to the increasing popularity of online news.
"When I came on board in 2012, it was a six-week-a-day newspaper," says Ozbun. "It slowly cut back to five and then three. I love community news. I wish more people supported it. I wanted to grow professionally and financially, and I didn't have those opportunities at the DDT. I knew growth opportunities were limited at the managing editor position. As far as a future financially, I knew if I was going to stay in the Mississippi Delta with my husband, I needed another job. But I had no clue what I wanted to do."
Ozbun covered the Tru by Hilton groundbreaking in Greenville in 2018 where she connected with Suresh Chawla, CEO of Delta Lodging Group. At that event, Chawla said if Ozbun ever wanted to work for him, she should give him a call.
"I saved his number, obviously," says Ozbun. "I continued working at the paper and one day I had enough. I was at my breaking point. I picked up the phone and called Suresh. He was in Greenville, and he interviewed me at McDonalds for three hours. I will never forget that interview. I had no prior experience working at hotels, but ended up being hired to assist in operations with a goal of working in marketing and sales in the Greenville hotels. In February 2019, I was moved into operations and was project manager for the Tru by Hilton. I learned about hotel operations, and was doing sales for all twelve of their hotels."
Talent floats to the top and, in July 2021, Ozbun was promoted to chief operating officer. In June of this year, she was named CEO replacing Chawla, who is semi-retiring and remaining chairman of the board of the largest privately-owned hotel and hospitality management company in Mississippi.
"I work directly with hotel ownership and our board of trustees while leading an executive team, including a chief financial officer, three regional managers and a human resources manager to oversee hotel operations at fifteen hotels, which include Hilton, IHG and Choice hotels located across seven Mississippi Delta cities–Greenville, Greenwood, Grenada, Clarksdale, Cleveland, Indianola and Yazoo City," says Ozbun. "I am responsible for overseeing and leading improvement initiatives, both short-term and long-term, and the operations of focused-service hotels, which include guest relations, maintenance projects, human resources and special projects; making and implementing strategies and setting the company's strategic direction and tracking performance to generate and maximize revenue; overseeing hotel renovations and new builds; and identifying gaps and providing solutions to exceed the expectations of exceptional customer service for the guests."
Chawla said Ozbun's elevation to the top spot in the company was well deserved.
"She has transformed our company by creating a massive improvement in sales and guest survey scores," says Chawla. "Sarah is now overseeing a company of 320 employees at our fifteen hotels. She is passionate about the Mississippi Delta. Recently, when the tornadoes hit Rolling Fork and Silver City, The New York Times contacted her, and she and Floyd Melton went to those towns to cover the event. She ended up having four articles on the front page of The New York Times the following few days. Not bad for a retired journalist! She wanted the devastating story of the Delta front and center, and she sacrificed lots of time to cover the story. It is people like her that can make a difference in the Delta."
Ozbun has found the hotel work has some similarities to journalism.
"The hospitality industry opens your eyes to what it going on in your city," says Ozbun. "I was oblivious to all the different companies coming to our area."
Like any type of business, employee retention can be difficult.
"That is something we are working on," says Ozbun. "Hospitality is sometimes referred to as an accidental career because most people don't grow up intending to work in the field. But, it doesn't have to be that way. I want to create a company where people can stay in the Delta, raise a family and have lasting jobs. We have a couple dozen people who started at the front desk or housekeeping and are now managers. I do want people to have success. That is something Suresh and his family find very important."
She looks for employees who have good people skills.
"You can train someone how to make a bed or use a computer but can't train them to have a great personality," she says. "I think you are born with that. We look for employees who can really be welcoming and helpful to our guests. We like employees who are willing to talk to people about unique experiences in the area like Ground Zero Blues Club in Clarksdale, and the Belmont Plantation, the last antebellum plantation along the Mississippi River. There is Kudzu Coffee in Yazoo City and the Blues Museum in Indianola. You need to be able to tell guests about what is unique in the Birthplace of America's music."
Ozbun says their employees are living proof you don't need a college degree to be successful. They need team members including those who can do plumbing and HVAC work.
"You don't need a degree to be customer-service focused," says Ozbun. "In our corporate office, the majority of my team members didn't go to a four-year college. We don't talk about where you went to college or what degree you got. We want you to be honest, hardworking and friendly."
Delta Lodging Group has matching 401K savings programs, and gives front line employees incentives for high guest survey scores. Managers can earn quarterly bonuses.
"These are things we can do to show we care about them," says Ozbun. "Our frontline team is the backbone of our company. I rely on them to give that superior customer service to make sure our guests feel at home. We know the Delta population is dwindling, but we believe in these cities and we want our team members to also believe in our towns."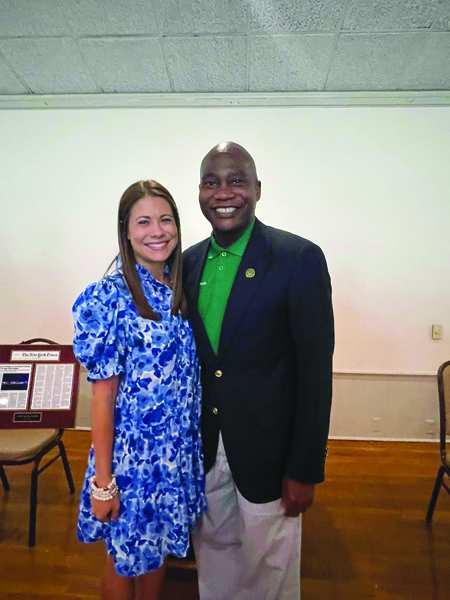 Born and raised in Memphis, her father was a prominent lawyer and her mother was a stay-at-home mother to Ozbun and her younger sister, Sophie. Ozbun graduated in 2008 from St. Mary's Episcopal School. 
While in Memphis, she was a competitive swimmer and triathlete with a grueling schedule. She had swim practice from 5:00-6:30 a.m. before school and then would go back after school from 4:15 to 7:00 p.m. On Saturdays, they practiced from 7:00 a.m. to noon. She attributes her time management and organizational skills to those sports.
Ozbun recalls being a kind of oddball in high school. Her classmates were very smart. Some were headed to Ivy league schools.
"They knew what they wanted to do," says Ozbun. "I had no clue. I didn't really think of a career path. My second semester at Southern Methodist University in Dallas my roommate came in and said she was taking a class I would love, the ethics of journalism. I ended up working for the college newspaper. I loved reporting. I had finally found something I was great at. I was average in sports and other classes but I stood out as a reporter."
She graduated in 2012 with honors from Southern Methodist University, where she earned bachelor's degrees in journalism and art history. While at SMU, she worked at The Daily Campus, where she was a staff reporter her sophomore year, managing editor her junior year and editor-in-chief her senior year. She also interned at both the Dallas News and the Dallas Observer.
"I was the only staff writer from SMU who got a page 1A story in the Dallas News," says Ozbun. "Right after that, I had the most read blog in the Dallas News that year. I thought that was the cherry on the top that would allow me to stay in Dallas and have a job. When I asked for a job, they said, 'No. You need experience. Come back in five years and apply.' I was honestly devastated."
She then applied for jobs in Kansas, New York and Mississippi. She got the job in upstate New York, but it didn't feel right.
"Upstate New York was just so different," says Ozbun. "I felt like I was in culture shock. That next week my dad and I drove to Greenville. They offered me the job and I realized that was where I wanted to work. It was very different from Dallas. My goal was to get back to Dallas within five years after I beefed up my resume and won some awards. I remember my mom looking at me, and saying, 'Please don't stay in Greenville. Do not fall in love.' I told my mom Greenville was temporary."
Then she got involved in the community, and six months after moving to Greenville, met Andy Ozbun. They have been married now for about eight years.
"I have two wonderful stepsons, Morgan, who just turned sixteen, and Luke, who is about to be thirteen, and a three-year-old daughter, Olivia," says Ozbun. "Morgan and Luke live in Monroe, La., but Andy and I do our best to attend their football, basketball and baseball games and track meets. Olivia wants to play soccer and tennis but right now enjoys dancing across the stage."
Like she did earlier in her life, Ozbun rises early to exercise. She gets up at 5:00 a.m. and works out at her house.
"That sets up my day for success," she says. "If I'm not at work and not working out, I'm with my family. I love being with my family, riding around the golf course with my husband and swimming with my daughter or taking her to the park."
Ozbun is a past board member of the United Way of Washington County. She is currently the marketing chair for Delta Cotton Belles, an active Greenville Rotarian, a member of the Washington County Economic Alliance and a member of the WCEA's executive committee.