Mississippi Economic Council, Securing Mississippi's Future
By Becky Gillette • Photography by Greg Campbell
Scott Waller, IOM, president & CEO of the Mississippi Economic Council (MEC), the State Chamber of Commerce, grew up in the small town of Shubuta with a population of less than 500 in the southern portion of Clarke County. Shubuta's Main Street is only one block long.
"There is something about growing up in a small town where you know everyone and everyone knows you," says Waller. "It makes you appreciate small towns. A lot of small towns in Mississippi and elsewhere have had challenges. Where I grew up, there were two or three garment factories that were economic drivers. Those are now gone. You try to find other ways to grow your community."
Small towns have a lot that can be attractive including close connections with family and friends. Often the cost of living, including for housing, is more affordable. People take pride in their community. Crime rates are low. Schools have teachers dedicated to the success of the students.
"There is a lot to be said about living in a small town even if you might drive somewhere else to work," says Waller. "Many Mississippians like living in smaller towns. It is the lifestyle they grew up with and what they are accustomed to. They have family connections and sometimes family land and don't mind driving to work in a larger city."
Waller says it is important to play on the strengths of the state focusing on the affordable cost of living, and the strong support for communities as evidenced by volunteering.
"One of the great things we have in Mississippi is our connectedness," says Waller. "Mississippi has a good cost of living and is a great place to raise a family. Our goal is to build on those things and make those even stronger, using it to our advantage regarding economic growth and long-term job creation."
Waller finds it a privilege now to travel to small towns across the state with a mission of listening, learning and providing information, feedback and advice on economic development programs and strategies.
"What I see a lot in our communities is that they are finding that niche to be able to survive and create the unique small downtown approach," says Waller. "Part of MEC's job is being a part of giving people the things they need to help their communities be successful. The work world has changed, particularly with remote work that can allow many to live wherever they want. Small towns can attract people the towns might not have had before because of those opportunities."
In the MEC Securing Mississippi's Future: Securing Economic Growth study (https://msmec.com/securingmsfuture/) released in 2022, some of the elements that were identified as critically important in both small and larger cities is making sure the economy is growing through having a strong, trained workforce. It is important to make sure that employers have what they need to prosper which allows Mississippi to retain more of their best and brightest young people.
The report came out of MEC's annual statewide tour of fifty-one listening sessions in eighteen communities. "Securing Mississippi's Future: Vision for Economic Growth," identified a lack of qualified workers as the number one concern of businesses across Mississippi.
"Without exception, a lack of availability and preparation of qualified workers to meet current and future needs was of greatest concern across all business sectors," Waller said in the report. "While generally optimistic about the business climate, workforce issues were universally troubling as a risk to economic growth and a major hurdle for existing businesses."
Waller says what sets MEC apart is fact-based research and having major lobbying clout at the Mississippi Legislature because the organization is well-connected with leaders across the state. An example is data research in 2016 that indicated a critical need for road and bridge repairs and replacements. MEC members lobbied in a special session for funding that is providing more than $200 million annually, plus an additional $500 million in emergency bridge and road repairs. This effort has also made infrastructure a priority for the legislature, as evidenced by the five-year, $40-million commitment to match funds that will generate an additional $1.2 billion for Mississippi through the Federal Infrastructure Jobs Act.
"I love being at MEC because we can see a real difference in the improvements we advocate," says Waller. "We are on the cusp of doing the similar things in workforce development including $12 million that has been approved for career coaches in high school to help students decide the best path for them to get into the workforce and be successful. Our hope is that in another year every high school in the state will have this. That is the kind of thing that changes lives. That is why we are fortunate as the state Chamber to be able to focus on these things. Other business priorities include legislation in terms of taxes and tort. At the end of the day, we are talking about things having a meaningful impact on our citizen's lives."
Waller says it has been a blessing and honor to work with MEC and state leaders to see these recommendations go through. "There is a commitment in both the private and public sectors that are making these things happen," he says.
Waller credits his parents with providing a firm foundation for his success. His dad worked for the U.S. Postal Service, and his mom was a clerk at the natural gas company.
"They worked hard and through the years were able to provide for us," says the Mississippi State University (MSU) graduate. "Their goal was to make it so their kids had a better life. That is the thing that helped us all be successful."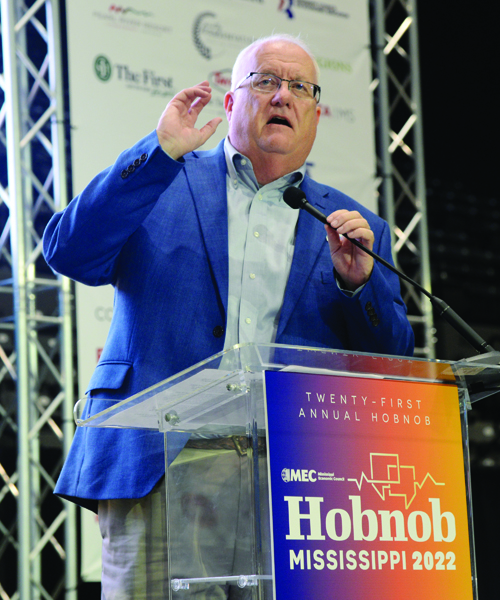 Waller has a background in journalism. He started career as a summer photographer working for the Clarke County Tribune, a small weekly newspaper. Towards the end of summer, the editor assigned him to cover a Little League championship tournament. He was excited when the editor ran the story giving him his first byline. That led to a twenty-two-year career in journalism. He worked at the Clarion Ledger for fifteen of those twenty-two years, the final four years as business editor.
In the late 1990s and early 2000s, he was co-owner of a residential construction company and also owned the Madison County Journal. He had two full-time jobs. The job as business editor came around 2002 at the time the U.S. was headed into a housing bubble, so it was a good time to make a career shift.
While working as business editor, Waller got to know Blake Wilson, his predecessor at MEC, very well.
"Blake was a tremendous resource for my staff covering business at the Clarion Ledger," says Waller. "Out of the blue, I got a phone call from him in 2006. He wanted me to come work for him. I hadn't thought of changing careers, but he wanted me to oversee communications and government relations. I had never lobbied for a bill in my life, but it was an opportunity I didn't want to pass up. In my first session, I lobbied for a tourism bill from start to finish. We got some legislation passed to create an incentive to invest in tourism attractions across the state. It has paid fairly good dividends.
"That led to seventeen years of working with the legislature advocating for meaningful public policy to grow jobs and help businesses be successful. That helped us create a stronger business and economic development environment. More recently we have put a lot of focus on workforce development, skills training and amplifying the importance of career and technical education that we are seeing paying long-term dividends."
Wilson says Waller is a great writer and has a sharp analytical mind being able to break down legislation.
"He also has a strong ability to work with people," says Wilson. "Scott is an organizational guy. He has been involved for years in the Boy Scouts. He has both a good left brain and right brain which is a helpful combination. I like to refer to him as my successor instead of my replacement because he is having such success at his job."
MEC has started a talent attraction and retention initiative."
Waller says there are a lot of bright, young professionals in the state already. We just need more of them.
Waller serves on the Transportation Investment Advocacy Council, the U.S. Chamber of Commerce Committee of 100, and on the board of the National Association of State Chambers. He finds it helpful to connect with other similar groups across the U.S. to learn how others deal with the same issues facing Mississippi.
"Our workforce development work in Mississippi is getting national attention," says Waller. "A lot of the 'Securing Our Future' recommendations were based on best practices from counterparts around the country. Then we turned around and shared our information with them."
Waller and his wife, Kim, have a son, Shane, who started working for Sen. Cindy Hyde-Smith in 2019. One of his focus areas is now workforce development.
"I told him, 'Now you're talking my language'," says Waller. "He graduated from MSU in 2016 on May 7 and on May 14 went to D.C. on an internship and has been there ever since. He also earned a master's degree at George Washington University."
Waller, an Eagle Scout, serves on the executive board of the Andrew Jackson Boy Scouts Council. An avid college baseball fan, he also enjoys boating and golf.
Waller says his background in journalism was vital in that a true journalist talks to people on both sides of an issue and lets the reader or watcher determine the facts. Today, it can be harder to find middle ground and give and take.
"It concerns me that compromise is increasingly rare," he says. "How do we find a solution to get everyone to come to the table and air our differences, figure out what we have to fix, and get it in place to make our state better? That is my whole approach to things."