Trailblazing Mississippi CEO
By Jack Criss • Photography by Timothy Ivy
As President and CEO of Cite Armored—a major truck manufacturing company based in Holly Springs, with an additional location in her hometown of Batesville—Teresa Hubbard has become one of the leading entrepreneurs in the state. Quietly and without fanfare, Hubbard made a total pivot from her accounting background to running a worldwide business, which just celebrated its twentieth year, from her lifelong home state of Mississippi.
Along the way, Hubbard has also consistently contributed and given back to her beloved state, including serving a current term as a Trustee with the Mississippi Institute of Higher Learning.
"Teresa Hubbard is a self made American success story," says fellow IHL Trustee and former CEO of Delta Council, Chip Morgan. "She took the initiative and used her skills and her strengths to move a company from fledgling business risk to a major player in the business sector of a business that is extremely competitive. As a Trustee, Teresa has exhibited the same work ethic on behalf of our eight public universities that she has successfully led in the private sector. My personal view is that all State agencies are served best by those who have been a success in their private life—and certainly, Teresa is the model for that formula."
Hubbard founded her unique company in 2002, and has since expanded CITE Armored into becoming one of the largest women-owned companies in Mississippi. CITE Armored is indeed unique: it is now a world-leading company specializing in custom security manufacturing and technologies for a number of well-known clients. The company has built over 2700 armored and customized vehicles since its founding from its now two fully-equipped centers that maintains premium assembly line production.
Born and raised in Batesville, Hubbard is a graduate of South Panola High School. Her parents, Troy and Betty, raised Teresa and her two brothers, with her father working at the local rural electric power association and her mother staying at home running the household.
Upon leaving high school, Hubbard went on to attend Delta State University in Cleveland after being heavily recruited by other colleges. "I received several academic scholarships from a number of schools," she says, "and had actually enrolled at Ole Miss, had a roommate lined up and was preparing . However, one day at South Panola, I was pulled out of class by a well-known lady from Delta State, Admissions Counselor Betsy Bobo Elliott, and she offered me a Presidential Scholarship right then and there—on the actual deadline day," laughs Hubbard. "I loved her so much and was so taken by her impressive recruitment efforts that I took her up on the offer." Hubbard visited Delta State shortly thereafter and says she was very impressed with the University as well as the town of Cleveland.
After receiving her BBA from Delta State in 1987, with a double major in accounting and computer information systems/ programming, Hubbard entered her career as a Certified Public Accountant, working primarily in public accounting for some seventeen years prior to entering into the manufacturing arena.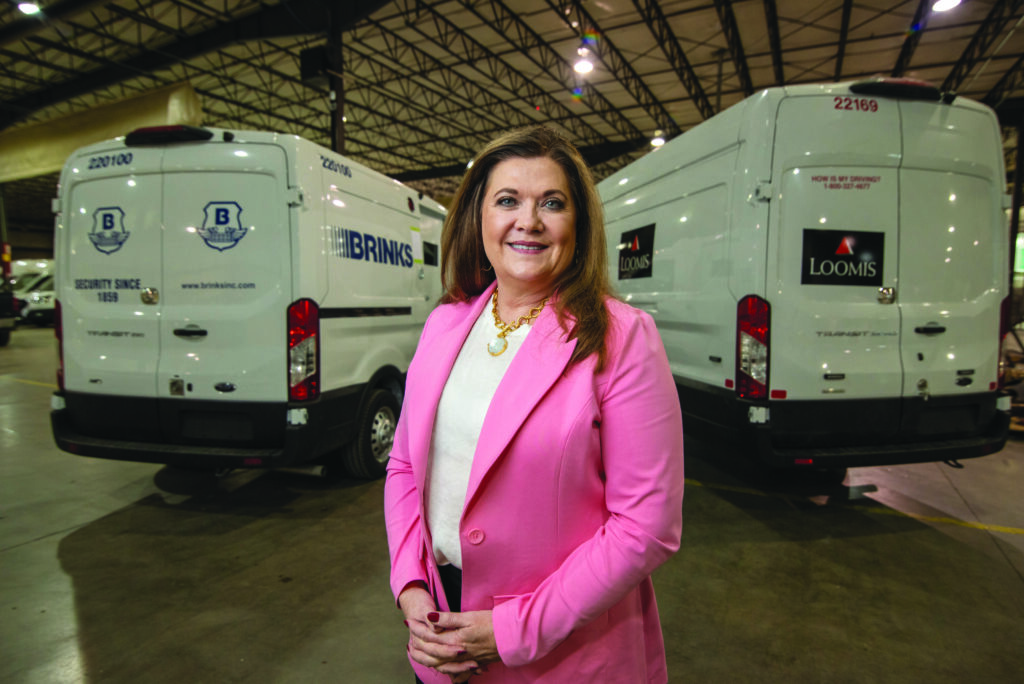 "I returned to Batesville to start my career as a CPA, actually having served as an intern at a firm during my last year in college," says Hubbard. After leaving that firm a few years later, she went to work with Horne CPA Group, one of the leading public accounting firms in the South and Southeast, based in Jackson. "Roy Ward was President at the time and Joey Havens was one of the Managing Partners," says Hubbard about two of Horne's well-known leaders. "I started with them in the Grenada office and initially worked under Joey. I would also rotate from time to time to the Jackson and Hattiesburg offices." Ironically, one of Hubbards co-workers at Horne in Grenada is now CITE Armored's Chief Financial Officer.
Married at the time, Hubbard made the decision to go to Memphis with her husband who was going to optometry school there. While in Memphis, she worked for Kemmons Wilson—the founder of Holiday Inn—within his company's tax department, managing the wide range of companies he owned. "Honestly, corporate accounting was much more slower-paced than public accounting," says Hubbard, "and, after two years of working with Mr. Wilson, I got back into the public realm, working with another firm." It was while there that she conducted an audit of an armored truck manufacturer—and the wheels started turning.
"That's how I got into my current business," she recalls. "The company I audited was based in North Mississippi and I ended up taking a position with them as their Controller and stayed on for eight years before going out on my own."
What sparked the transition from company accountant to innovative entrepreneur? "I was fascinated by the work," says Hubbard. "The reason I audited the company in the first place was because it was being sold. After that happened was when the new owners took me in to run the books in an executive-level role. I was only around twenty-eight years old at the time but it made me take on a higher level approach and I was involved in a good deal of the day-to-day decision making and process—it was more than just the numbers. I helped the new owner grow the business and started to love the industry."
In late 2001, Hubbard was told by the company owner that he had been approached with an offer and was going to take it. "So, essentially, I was going to be out of a job," recalls Hubbard. "It was then that the plant manager, Ken Russell, and I decided to start our own business, retaining a lot of the existing employees because there was no way they were going to move to Cincinnati, Ohio, which is where the sale was taking the company. It was almost out of necessity that he and I then wrote up a plan, implemented it, and started CITE Armored on August 1, 2002. Their first client was the renowned company, Loomis.
"Ken I drove to the Loomis headquarters in Dallas and met with a fleet director," says Hubbard. "And he agreed to give us some business—the operative word being 'some.' We had worked with Loomis before with our previous company but they were no longer customers, so there was no conflict and they knew us. That's how we started the business."
Hubbard says the nascent company began targeting the largest industries in the country that bought armored vehicles and approached them for business. "We grew through that process," she says. "I'm no salesperson but I knew how to ask for work—and we ended up getting quite a bit, including companies that are still with us and are now industry leaders. It wasn't luck, though. Ken and I had done good work in our previous jobs and our reputations preceded us—we weren't unknowns in the armored vehicle industry."
In a very compressed nutshell, CITE Armored buys what are called "incomplete vehicles" from companies such as Dodge, Fleet International, Peterbilt, International, and others, and then puts armored bodies on these vehicles at the Holly Springs and Batesville facilities. "We're bodybuilders for these vehicles," she says. "We build vehicles that can carry any sized amount of cash or goods and the lifespan is usually seven years or so for the smaller ones to fifteen years for the larger. On average, we produce about 600 a year—although we're slated to produce 1000 this year—and can and do deliver worldwide. We've built vehicles for embassies, U.S. Homeland Security, the Tennessee Valley Authority, in addition to our many privately-owned customers, such as Brinks. Cash transit remains the core of CITE Armored's business, though."
After years of successful leadership in her industry, Hubbard began serving on the board of directors for the Independent Armored Car Operators Association, and her company is a member of the Secure Cash Transport Association. The expansion to Batesville—which took place in 2020, revitalizing a 122,000 square-foot facility— bringing the total number of employees at CITE Armored to 150. Hubbard says, however, that the company's size should double within the next two years.
Hubbard has two children who attend the University of Mississippi: Her son, Ben, is a fourth-year medical school student at University of Mississippi Medical Center in Jackson and daughter, Elizabeth, is a senior at Ole Miss in Oxford, where Hubbard currently resides.
Along with her IHL duties—which started when she was appointed in May of 2021 by Governor Tate Reeves—Hubbard is a passionate and devoted supporter of Mississippi's young professionals, Hubbard says she has forged strong relationships with the University of Mississippi, Mississippi State University, and Delta State University in a number of areas. In the past, she has participated as a judge for the International Business Model Competition at Ole Miss as well as a judge for Mississippi State's Entrepreneurship Center's Start Up Summit. She also is actively involved with CASA (Court Appointed Special Advocates) of North Mississippi, which aids displayed children with the help they need.
Hubbard was also among those selected as a keynote speaker at the Delta State University International Business Symposium in 2017 and speaks all over the country at various business symposiums. CITE Armored also works closely with Mississippi State University Center for Advanced Vehicular Systems (CAVS), which assists her company on a regular basis with site master plans, effective print layout, and manufacturing process plans.
When not working, Hubbard is an avid traveller. She recently returned from a December trip to Germany, for example. "I probably travel for pleasure at least three times a year," says Hubbard, "and look forward to going to Africa early this year."
"I had a plan when I started this company in 2002, and I never looked back," sums up Hubbard about her career. It is that type of forward thinking that has made Teresa Hubbard such a formidable Mississippi—and American—business leader.