Keeping Ponds and Waterways Free of Unwanted Debris
By Catherine Kirk
As the weather warms with the approaching spring and summer months, many people may be
looking to clean and beautify their ponds and waterways before vegetation and algae becomes an overwhelming burden.
Oxford resident Jared Albright started a business a couple years ago that specializes in cleaning bodies of water to ensure they look pristine while also remaining safe for fish and other wildlife to live in.
Albright's Aquatic Vegetation Removal offers services for removing old and dead vegetation, algae and sludge, cleaning the water with microbe treatments, as well as installing water features such as aerators and water fountains.
Albright serves clients in not only Mississippi, but also Alabama, Tennessee, Arkansas, Missouri and Illinois.
Albright and his wife, who are both veterans of the United States Air Force, started the business in April 2020 and it's been steadily growing ever since.
To keep the water's ecosystem balanced, Albright says he never uses chemicals.
"I don't use chemicals. Everything is chemical free, which is a plus for a lot of people. A lot of people don't know that's even possible because chemicals are pushed so much on us," he says.
The microbe formulas Albright uses are natural, living organisms that break down excess nutrients and decaying organic sludge in water.
"Some algae is good and necessary to a proper ecosystem, but if it gets out of control it can and will ruin your pond," says Albright.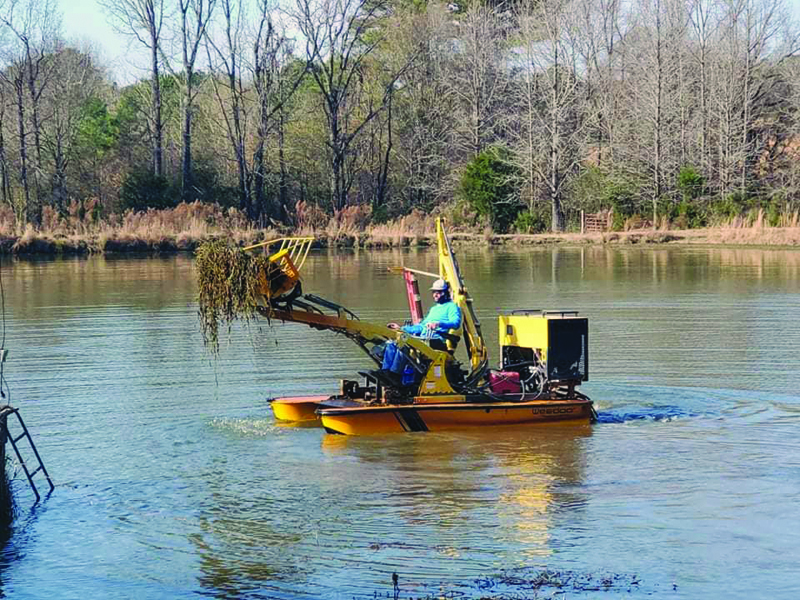 Albright says he has a mechanical tester that reads the water's alkalinity, PH balance, ammonia levels, nitrate levels, to determine what all he needs to use to keep a body of water functional and clean. 
From there, he uses a boat to mechanically harvest vegetation and then dump it on the shore.
While the workload is determined by the size of the pond and severity of the infestation, Albright says he can generally tackle anywhere from a quarter of an acre up to an acre each day.
"I work eight-hour days out on the water, almost non-stop," he says. "I can do anywhere from a quarter of an acre to about an acre a day with my single boat."
Some of his goals for this year are to do more shore-line work and obtain a second boat to tackle bigger jobs and take on more work.
The cost of a job is determined by travel time, but his fees range anywhere from $1,400 to $1,800 a day for just the removal. Hauling off the removed vegetation, which is optional, is an additional fee and is determined by how much needs to be hauled away.
For customers interested in having aerators and water fountains installed, Albright says those are effective for keeping water moving, which greatly helps reduce algae build-up and keeping fish healthy and alive.
"They not only help out, but they add a nice look to your pond as well," he says.
While the majority of Albright's work is on personal properties, Albright says he is open to working for municipalities as well.
When a customer calls for services, Albright says he can arrive within just a day or two to perform a free estimate.
"If I am booked and busy, they can always send me photos, video, and we can even do FaceTime chats. I've done all of that several times if I couldn't get there as soon as I'd like."
Albright says he will oftentimes use Google Earth to map the perimeter of the pond to determine the approximate acreage. Based off those findings in addition to any photos or videos he receives, Albright can gauge an estimate a time and cost for a job.