Mississippi Development Authority's Deputy Executive Director
By Mark H. Stowers • Photography by Greg Campbell
Keeping the cogs and wheels and internal and external parts of the Mississippi economy greased and rolling forward is an immense job for anyone. Laura Hipp, Mississippi Development Authority's deputy executive director tackles it all with gumption, fire and a smile grounded in knowledge of how to get things done and surrounds herself with those who do as well. The native Texan was named interim director by Governor Tate Reeves back in 2021 after the previous director resigned. Hipp had served as Reeves' communication director when he was Lieutenant Governor and also worked for former Governor Haley Barbour as communications director.
She received a journalism degree from Texas Tech University and then spent time as a political reporter for the Clarion Ledger in Jackson before returning to Texas to work at the Austin Business Journal. Her career at the Clarion Ledger, however, taught her the ins and outs of Jackson and Mississippi politics. Now, as head of the state's lead economic and community development agency, Hipp has a staff of 200 or so employees that stay busy promoting the state in order to recruit potential businesses and expand existing industry while also working to retain in-state talent. She also promotes her home-away-from-home as a top-notch tourism locale.
But, Hipp first came to Mississippi to ply her journalistic skills.
"What brought me here was covering Jackson City Hall and then the Mississippi Legislature back when people read those crinkly newspapers," says Hipp. "I did that for about ten years total, but I left for about a year to work for the Austin Business Journal and wrote about tech companies and finance. But, I ended up coming back to Mississippi work for Governor Barbour."
Still a passionate Red Raider, she added a maroon hue to her transcripts upon acquiring a Master's of Public Policy degree from Mississippi State University.
"I worked for Governor Barbour in his press office, and I worked there the last three years of his term. That was a whole other degree in public policy. I went to Mississippi State while I was doing that, but it was quite an experience working for him. I rose to be director of communications in his office and once he left office, I went to work for then, Lieutenant Governor Reeves and handled communications and did policy work. When he became Governor, I thought I wanted to try (state) agency life, and I came to the MDA."
Under the Barbour reign, Hipp was part of the Toyota announcement and much more. She first joined the MDA as the chief marketing officer and then acting director. Hipp has plenty to focus on each day to keep her busy.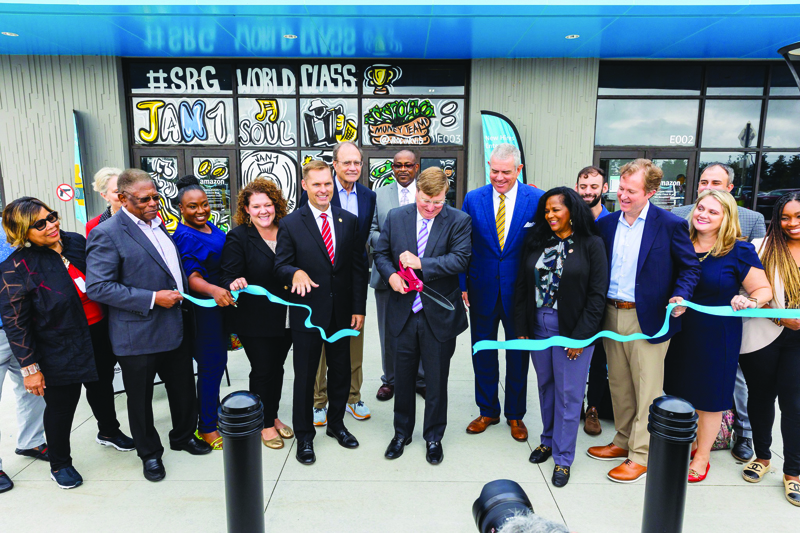 "We do have a lot of charges in our mission. There is traditional economic development, helping existing companies expand, recruiting new companies to the state, like Milwaukee Tool, which has a large presence in Mississippi, including a new-state-of-the-art facility in Grenada," says Hipp. MDA also administers grants and loans, such as Community Development Block Grants, to small towns and rural areas. They help build anything from water and sewer to railway and roads around even more rural areas of the state."
Hipp also notes that the program ASPIRE Mississippi, which works with a select group of communities to help them with their growth challenges, is under her purview. Cleveland and Bolivar County will be part of that program later this year.
"We work with the need they identify for the community. We are going to help them navigate their industrial parks and get those shovel-ready," she says.
More pieces of her day job include "selling the quality of life on one hand and also the business case for locating in Mississippi."
MDA also houses the State Energy Office and the Small and Minority Business Division, which "helps smaller companies grow and navigate how to become vendors to the government. We're also over Visit Mississippi—the state tourism arm."
In working to represent the entire state, Hipp relies on her staff of nearly 200. "We are fortunate that we have a lot of community partners that we work very closely with," she says. "Many of the counties have a local economic development organization or chamber of commerce that we work hand in hand with in recruiting businesses and growing others."
In looking at the Delta specifically, she has overseen quite a bit of investment.
"The Mississippi Delta has attracted almost a half-billion dollars ($491M) in private capital investment and 2,801 jobs facilitated by local economic development entities and the Mississippi Development Authority from 2018 to 2022," she says. "Almost seventy percent ($333M CapX) of this planned capital investment has occurred since 2020 and almost one-third of the announced job creation (1,804 jobs) has occurred since 2020. This area is comprised of the counties in the Delta Local Workforce Development Area including Grenada County."
She explains that under the Reeves' administration there has been a large focus on site development.
"Particularly since the pandemic, companies want to open their doors and make their widgets as fast as possible. Speed is almost a new incentive. Governor Reeves has been preaching that we've got to invest in industrial parks and get them almost as turnkey ready as we can," she says. "That's an investment that will payoff for many years. Fortunately, the Legislature has given us $60 million dollars since 2020 to work on site readiness. We just received another $20 million this past Legislative session. We are looking at sites all across the state both big and small."
In working to bring business in, she has to continually fight and refute the outside-of-the-state image of Mississippi.
"We tell the Mississippi story when we go to events. We recently hosted IAMC—the Industrial Assets Management Council. It's a grouping of corporate real estate people and industries that support them," she says. "We had almost 400 people down in Biloxi, and for most of them it was their first time in the state. It was great to hear their stories—'wow, it's so pretty here' and 'everyone is so friendly.' It goes in line with what Governor Barbour used to say: 'once you get someone down here, they see the hospitality, eat some good food and they are going to go home and say we need to come back.' We hope they come back and we're hoping they bring a business back."
Hipp's MBA helps her navigate the business world and government officials who are creating policy.
"We work with the Legislature and collaborate with a lot of agencies like the workforce office Accelerate Mississippi on policy discussions on how we can address the needs of our existing companies and bring in new industry. We want to make sure we're not just shuffling workers around and that we are growing the workforce as a whole. We are constantly examining and looking for ways to solve those issues. That's where that public policy degree comes in handy."
One former co-worker and former journalist Dan Turner, who now works for the Mississippi Lottery Corp as vice president of marketing, noted those dealing with Hipp should pay close attention.
"Laura's sharp and more than competent. Those who underestimate her abilities do so at their own peril," says Turner.
Hipp has been surrounded by plenty of smart and capable co-workers throughout her career.
"Working for Governor Barbour was just a special experience all around. I was fortunate there were a lot of sharp women to learn from and sharp men to work alongside while giving them a run for their money," she says. "Amanda Jones, Marie Sanderson and Rebekah Staples were just a few of those sharp women. I learned a lot from everyone."
Working on so many high-level projects, Hipp's desk stays filled.
"Under Governor Reeves as one of his cabinet agencies, he wants us to be aggressive in recruiting those companies of the future. We're looking at EV (electric vehicle) manufacturing and the various components we could make for the industry in the EV trend," says Hipp. "A year ago, Nissan announced they were going to start converting their plant in Canton to EV. And actual space companies—we've had several wins under Governor Reeves. Rocket Lab, a New Zealand company, will locate at Stennis Space Center on the Gulf Coast. We have a lot of commercial space on the coast."
"Agribusiness is the center of cutting-edge research and that's a big selling point for us," says Hipp.
When not promoting Mississippi and recruiting businesses, Hipp enjoys spending time with her husband Gregg and their nine-year-old daughter who keeps them on the road with tennis and other activities. She also finds time to visit Texas and her friends and family there as often as she can.