By Becky Gillette
There is an old saying, "If you want something done, ask a busy person to do it. The more things you do, the more you can do." That might fit the bill for a number of business people in the Delta who manage to juggle full-time jobs with side businesses.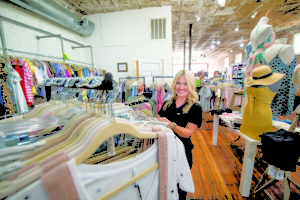 Morgan Wheeler is very passionate about both of her careers.
"I truly love what I do every day," says Wheeler, an occupational therapist who is co-owner of KutWorks Boutique in Cleveland. "I feel like I get to improve my patients' lives each day and also make a living capitalizing on something I consider my hobby, finding and providing the perfect gift, piece of clothing or accessory to make customers look and feel their best. I've been able to turn my work experience and love for fashion into a career, as well as use my education and skill set to
provide therapeutic techniques and strategies to improve patients' functional independence."
Wheeler works for Advance Physical Therapy in their outpatient facility inside North Sunflower Medical Center in Ruleville, and when necessary the swingbed unit and nursing home. She is also the evaluating occupational therapist at Delta Rehabilitation & Health Center of Cleveland.
Wheeler bought into KutWorks in October of 2011.
"I helped out in the store while I was job hunting out of college, and I just felt like it had a lot of potential on the boutique side," Wheeler says. "When I mentioned it to the owner, Freida Easley, she seemed thrilled for me to partner with her, so we created KutWorks Boutique. A few years later, Mary Beth Smith joined us and she operates a clothing business within ours. We are located in the Warehouse District downtown in Cleveland."
It's obviously very stressful at times.
"When you own a business, your mind never really stops thinking about it," Wheeler says. "And when you care for your patients, you're always thinking of ways to improve their lives and better serve them, as well. So, somedays balancing a personal and professional life well can seem like quite a chore. As busy as I am though, I've never let my life be consumed with only work. I love to travel, spend quality time with my friends and family and being active. Luckily, I have a great staff at the store, as well as wonderful bosses/coworkers at the therapy centers. Everyone is very understanding of my variable schedule, my multiple market trips, and even my scattered brain at times. I've had to learn to prioritize and accomplish what's most important each day, as well as how to pass off tasks to others. I used to try to do them all myself, but I learned while in school to utilize those wonderful people who are asking to help and to keep a detailed planner and refer to it multiple times a day to stay on track."
Wheeler, joking that she must really want to test her stamina, opened a second store, Mod & Proper, in downtown Cleveland in late July. This venture is with her mother, Martha Wheeler, and Mary Beth Smith.
"Both are interior designers with an impeccable eye for style and design," Wheeler says. "We are looking forward to bringing contemporary clothing to our new spot, as well as the latest trends in shoes, jewelry, home interiors, gifts and antiques. I have a feeling that things are going to get even busier for me very soon! I work very well under pressure, so I honestly wouldn't have it any other way."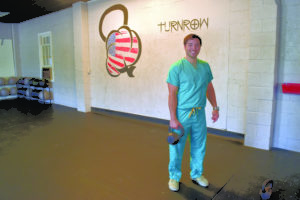 Brannon Walls manages to fit in teaching at his TurnRow CrossFit in Indianola both before and after working as a nurse circulator in surgery at the South Sunflower County Hospital in Indianola.
"I coach a 5:15 a.m. class before I go to work at the hospital," Walls said. "In surgery we start at 6:30 a.m. and get off at 3 p.m. every day which affords me the opportunity to get to the gym for a 3:15 p.m. class."
Growing up he played football, baseball and soccer and was in the choir. There was always something going on, so that was just normal life. He opened TurnRow CrossFit in April 2015 while he was in nursing school. Prior to that he worked as a fitness specialist Baptist Healthplex at Mississippi College.
He graduated from Mississippi College with a B.S. in kinesiology. He first heard about CrossFit in 2012. Then he moved up to Indianola for nursing school in 2013.
"I transitioned some of the knowledge I'd learned at the Healthplex into operating TurnRow Crossfit," Walls said. "The jobs complement each other. They are both health related. They both involve helping people. I don't feel too busy. Balancing family life and these jobs is what we have grown accustomed to, so we have made it work."
He and his wife, Ann Shelby Walls, also own Tin Can Shaved Ice, which is a snowball stand operated out of a 1973 Airstream. They do that in the summertime. They also own The Perch Flowers and Gifts.
"We are busy," Walls said. "We also have two kids, one three and one eighteen months. I'm home from the gym by 6:30 p.m. which gives me time to spend with the family."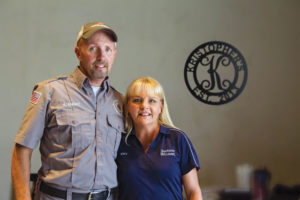 Another dynamic business couple is Mary and Kris Knight in Yazoo City. Mary has been manager of Sherwin Williams for more than 20 years and Kris has been a general maintenance supervisor at Federal Correctional Complex in Yazoo City for 20 plus years.
The Knights had a food vending trailer for five years before opening Kristopher's Seafood in Yazoo City June 8.
"It all began in the fall of 2012 after we first met," Mary Knight said. "We were outside sitting on the back patio when Kris said to me that he had been wanting to buy a trailer and try to sell crawfish the following spring. From that moment on, we started working towards having everything ready for the beginning of crawfish season."
They started selling in February of 2013, and had a blast selling out of the small trailer. They had so many requests for shrimp and crab that they decided to add that to their menu as well.
"We then bought a larger vending trailer, and we started opening on the weekends all year," the couple said. "At this point, we started looking for a location where we would start our restaurant. We found the location and worked all of 2017 renovating and remodeling our building to turn it into our place. That's how we became the proud owners of Kristopher's Seafood."
They said "of course" there are challenges as there is with anything worth doing. The main one is not having enough hours in a day to do everything that needs to be done. Still, they say the rewards of knowing they are doing it to build their own business, outweighs it all.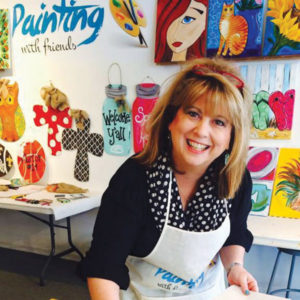 Another Deltan who wears more than one business hat is Judy B. Nail, PHR, SHRM-CP, human resource director for Staplcotn, Greenwood, who has been employed by Stalpcotn for 30 years. She said she didn't need a second income but was looking for a new outlet for her creativity.
"The paint and sip business model just spoke to me after I visited a similar studio in Ocean Springs," Nail said. "I love teaching and painting, so it was the perfect fit for me. I opened Painting with Friends in July of 2013. I know how hard we all work and can barely breathe sometimes, so having a place where people could come and relax, laugh and sip their favorite beverage while listening to music and painting with their friends was just the ideal concept for me. I often begin my classes by saying, 'Now just breathe'."
Nail said Painting with Friends has been a blessing to her life.
"I had my fifth-year anniversary on July 15th, so that makes me really happy," she said.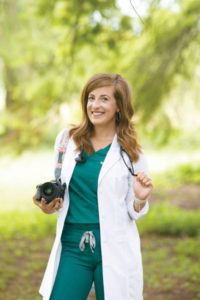 Tori Powell of Clarksdale combines the demands of working as a family nurse practitioner at The Woman's Clinic with a photography business
"I have always had a passion for photography and videography that really bloomed after the birth and inspiration of my daughter, Harper, now 3.5 years old," Powell said. "Shortly after her birth, I started nurse practitioner school and was a full-time critical care nurse, on top of being a wife, and new mommy. I decided I needed a creative outlet and a little time for myself. So, one of my best friends and I decided to start our photography and videography business, Victoria Brooke Productions."
She said as one of six children to a loving mother, she was raised with a great desire to care for and love others.
"I feel fortunate to live out that calling in my practice as a nurse, and also as a photographer," Powell said. "Photography gives me the opportunity to understand, recognize, and capture the unique human connection between my clients, and create art in the form of tangible memories that they are able to keep forever. My career as a nurse has taught me over and over again the fragility and sacredness of life. So, to be able to immortalize the ordinary moments in the form of images is one of my greatest blessings, because this is where life truly happens, in the ordinary, day-to-day moments. Serving my community in this way brings me joy and fulfillment in ways I did not know was possible."
She finds the biggest challenge finding the time to balance family life, work life, and her creative life. However, she has found the most joy and fulfillment when these three are balanced because she feels like she is truly living her calling of serving others all while representing the best version of herself.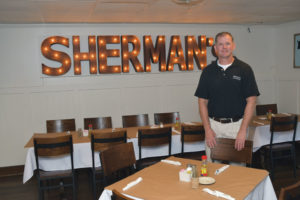 Peter Nimrod, chief engineer, Mississippi Levee Board, also works with his wife, Allison, to own and manage Sherman's Restaurant in Greenville.
Charles Sherman, Sr. opened Sherman's Grocery Store in 1947. In the 1970 he added a deli in the back of the grocery store which served sandwiches and hot lunches. In 1978 Charles Sherman. Jr. bought the store from his father. In 1985 Charles closed down the grocery store and converted it to a restaurant. Sherman's Restaurant open its doors in 1985 as a full-service restaurant.
"My wife Allison has grown up in the food industry and she loves full-service restaurants," Nimrod said. "Allison and I purchased Sherman's Restaurant in the fall of 2012," Nimrod said. "Sherman's offers a huge menu for any appetite. We serve steaks, seafood, pasta, pork, chicken, barbeque, salads, gumbo, and homemade desserts. The restaurant was recently completely remodeled by world-renowned Chef Gordon Ramsey as part of his new series called Gordon Ramsey to Hell and Back in 24 Hours."
Nimrod loves his job as chief engineer of the Mississippi Levee Boar and admits that owning and running a restaurant is very demanding and non-stop.
"My hat is off to my wife, Allison, who is at the restaurant everyday handling the day-to-day operations," Nimrod said. "My job at the restaurant is to worry about the finances. I enjoy the challenge of balancing finances, reconciling daily books, trying to pay back the loan, providing jobs for people, feeding our customers with top-quality food, and most of all I enjoying seeing and visiting with people. We want to thank all our loyal customers and we invite everyone to come enjoy our new renovations and revamped menu at Sherman's."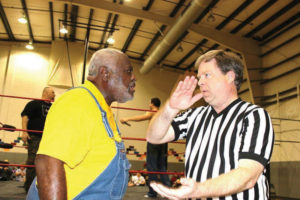 Brother Danny Smith has been minister at First Baptist Church of Tunica since May 1998, and for 20 years also served as Municipal Chaplain for the Town of Tunica. The things he likes best about his job, or calling, are the opportunities to serve people in a local congregation and community by preaching and teaching the Bible, building relationships, and engaging in Gospel conversations that are relevant to the need of the moment.
He also has a sideline business as a referee for wrestling matches.
"In 2012, I was given the opportunity to serve as honorary referee for Cremator Scott Peeples vs. Big Don Brody in Tunica," Smith said. "I counted the 1,2,3 as the Cremator won the Tunica belt. (The assigned referee was knocked out of the ring.) Scott paved the way for me to be trained, work with several area independent promotions, and enjoy a childhood-dream-come-true."
He really enjoys the work because of the people he has met in the business, the excitement of the fans, as well as the fundraisers he has participated in for community and Gospel mission needs by working with faith-based and family-friendly promoters.
People are surprised when they find out that he referees "on the side", but those who are wrestling fans tell him it's cool. Fans, talent, and promoters are also surprised when they find out that he is a preacher.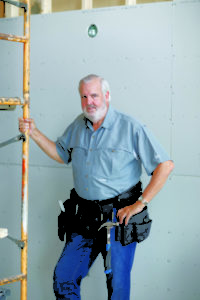 Attorney Bill Luckett of Clarksdale has received wide attention for all his business enterprises. The Economist, one of the leading business publications in the country, did a story about his many different professions on June 11, 2016.
"After that story came out, I got emails from people all over the world," said Luckett, a former Democrat candidate for governor and Clarksdale mayor who is an entertainment lawyer, an actor, a developer, and businessman operating high-profile businesses like the famous Ground Zero Blues Club. A six-page article titled "A Life in Motion, Reflections on the Southern Film Industry", just appeared in the nationwide magazine Good Grit.
On Father's Day he finished filming with John Travolta. Morgan Freeman, his business partner in Ground Zero, is in that movie as well. Luckett calls acting his "new career." He has been in 12 feature films.
"Why do I have a bunch of careers?" he asks. "I'm a person who is really curious and I like challenges. I grew up wanting to know how things work. I like to know what makes people tick. After I was unsuccessful in the run for governor in 2011, I jumped into a new area of law practice, entertainment law. In the process of doing that, film people would say they needed someone to play a judge or a lawyer. I've also played a news anchor, a pickup truck driver, a diner chef, a senator, a heckler in a crowd, a lawyer, and a coroner. I was offered a role as the 'good colonel' on upcoming movie on William Faulkner. Travis Mills directed me in a movie called "Son of a Gun".
Luckett has been involved in a lot of adaptive reuse, preserving old buildings by repurposing them. An example is the converting an old furniture store to Madidi Restaurant, which operated from 2000 until 2012. Then it was converted into a dorm. One of his favorite projects was renovating the Bank of Lyon, vacant for 50 years, into eight apartments. The Ground Zero Blues Club building was a wholesale grocery and cotton company and now is a night club with eight apartments upstairs.