By Angela Rogalski • Photography by Timothy Ivy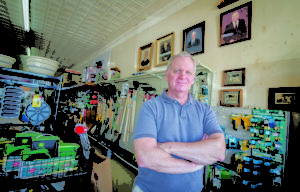 It's quite amazing that a small Delta business could make it 20 years, but 129? Flint and Son, better known as Flint's Hardware, celebrates being a thriving business since 1889, when C.H. Flint saw a golden opportunity in Batesville. To put the business' longevity into the right perspective is the store opened just 24 years after the end of the Civil War.
"We've been through two World Wars. We are older than the Titanic and older than even automobiles. That blows people's minds," says Ben Flint, the great-grandson of C.H. Flint, who couldn't be more pleased or proud of his family's legacy in Batesville.
"I am the fourth generation Flint to run this business," says the owner. "I'm just trying to carry on the family tradition. We've got lot of pictures and newspaper clippings from over the years. We've just been lucky. Batesville has been good to us. It is unusual that it has lasted as long as it has."
Ben's father, Calvin Flint, and uncle, Armtead Flint, ran the store before him, and before those two his grandfather, Calvin E. Flint, was in charge.   
Though it hasn't always been so, every person who currently works in Flint's is, well, a Flint.
"There are Cole and Johnathan, who are both my first cousin's sons," says Ben.
Edwin, a first cousin, and self-proclaimed "black sheep" of the family, works part-time. He was an attorney for 30 years before he moved back home.
As for Ben, he worked with his dad and uncle for 35 years. All in all, they have great memories that have lasted several lifetimes.
"I used to walk to town when I was little and my dad would give me a quarter for a coke and nabs. There are so many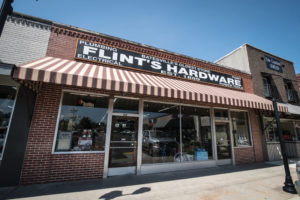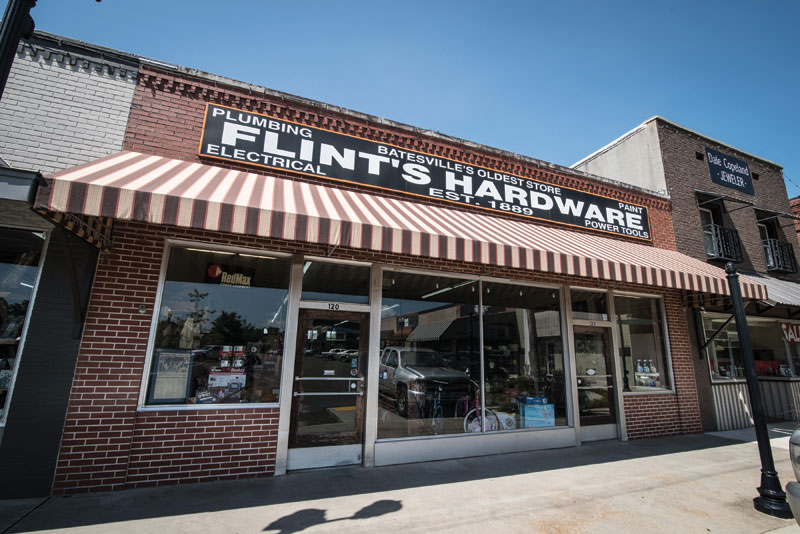 stories, it's hard to tell them all," Ben said. "One story we still talk happened to my cousin Barry, who was working here at the time. Someone brought a .22 rifle in and wanted us to sell it for him. Barry checked it out and put it on the rack to sell. People would come in here and look at it. One day, Barry picked it up to show it to someone. Our police chief was out in front of the store directing traffic. Barry aimed it outside toward the front and pulled the trigger. It went off and knocked a hole in the glass. After he did it, Barry dropped the gun, and asked my dad repeatedly, 'Am I bleeding? Am I bleeding?'  My dad said, 'Son, you are so white, there's no blood left in you. We still have that hole in the glass.
"Another guy walked in here one day and asked if he could look at a rifle.  My dad showed it to him, and then he asked what the shells looked like. Well, the guy just waked out of the store with the gun and the box of shells," Ben says. "My dad tried to stop him and he said, 'Mr. Flint, don't make me hurt you.'  He quickly walked away. In all the commotion, my dad hitched a ride with a post office worker, they followed him, and there he was sitting on the ground behind the post office trying to load the gun. We had called the cops by then. Soon, every cop had him surrounded in a circle. He raised the gun, and they shot him in the leg. He was sent to Parchman, and while he was in there, he wrote a letter to my dad, apologizing. It was a nice letter, and he explained he was just crazy at the time."
The weather has also played a big part in Flint's history.
"In 1978, we had a tornado hit Batesville on a Sunday and it took half our roof off," he says. "And this is what I mean by Batesville has been good to us. It was still raining after it was over and people came and tried to help us put a tarp up to cover our exposed merchandise.  The 1994 Ice Storm was another big weather event for us. We were one of the only businesses that never lost electricity. We were one part of the square that stayed open, so we were able to help people with supplies. We were open the entire time. We wore ourselves out working every day. What I remember the most is that in two weeks we sold 160 chainsaws, where we normally sell 30-40 a year. We had people lined up to buy chainsaws. It was a bad situation but I am glad we were able to be open."
Yes, it's a lively group of descendants who love the hardware store as much as they love each other. They put in a lot of hours and hard work, but they still have a good time, carrying on the family business.
Business has not always been booming. In fact, Flint's Hardware has seen its share of hardship. From a major decline in sales during the Panic of 1907 to a boll weevil infestation during WWI, the family has persevered. Ben says there was also a fire in 1954 that burned down most of the Batesville Square. Not even the birth of big named stores like Lowe's, Home Depot or Wal-Mart has shut the doors.
"It's hard to do," he says of competing against big name stores. "But we are on the other end of town and we have a lot of loyal, regular customers. It helps that everyone knows our name, and everyone knows who we are."
Through Flint's Hardware's pursuit of excellent service and complete knowledge of products and projects, the business has maintained its customer base.
One customer said, "They have knowledge about everything they sell. No telling how many times my daddy walked through Flint's doors… one of his favorite places to go."
"Plus, you can come in here and be gone in 10 minutes," he adds. "You can't do that in many places."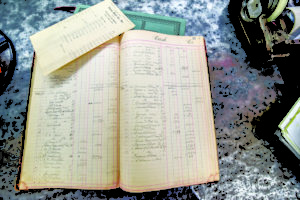 Being small also gives them a wealth of knowledge of their regular customers. They are able to greet each by name and, if they are a new customer and their name isn't known, they are still given a wide smile and a greeting. The Flints are also able to direct them to the exact location of every item needed to complete a project, whether big or small.
"I've been working here since I was 15," he said. "I worked on and off through college and fulltime since I was 20. I've been happy. I could make more money somewhere else, but I am happy to carry on the family tradition.
"We sell plumbing, electrical, lawn and garden, sporting goods and general hardware," Ben adds. "We are just an old time hardware store. I would say plumbing supplies is the biggest line. I've got all brands in stock from flashlights, batteries, cast iron cookware, shovels, pipe joints, knives, you name it."
The business motto is "If we don't have it, we can get it," rings just as true today as it did when the doors first opened.