A Mobile Pet Care Business Serving the Delta
By Lyndsi Naron
Candice Hopper has recently started a mobile pet care business, Hoof n Paw Pet Services, which serves Cleveland and the surrounding area. She has eighteen years of experience in medicine and has a Veterinary Technology degree. She graduated in 2016 with the degree and has been focused on making an impact in her community ever since.
"I was born in Texas, and I lived here in Mississippi when I was younger," says Hopper. "I actually had an aunt, Sherri Hopper, who used to be the director of the Bolivar County Humane Society. I have always loved animals, but she kind of started the passion for it and she introduced me to horses. Then, we moved up to Idaho for twety-one years. I have been back here for the last two years working out of Oxford. I want to be able to help people that wouldn't normally be able to get the help they would need."
According to Hopper, her experience at an equine hospital as well as in shelter medicine and general practice have helped her feel equipped to run a mobile business such as this.
"I saw a need here," says Hopper. "A lot of people aren't able to necessarily get to the vet, or it's not always cost effective, so I wanted to have a way to be able to help the community a little bit more. I actually still vet tech at Tubb Spay & Neuter Project in Oxford. I travel to Oxford weekly and I am still hands on monitoring surgery and recovery."
Hopper currently offers things such as; nail trims, ear cleanings, pet waste pickup, medication administration, anal gland expression, pet/farm sitting, and large animal care. The prices vary by difficulty, but Hopper said her main goal is to be affordable so she can help the community instead of just focusing on making money.
"If anybody is interested in a service that is not listed absolutely reach out," says Hopper. "For the most part, I am trying to just focus on being mobile, offering things that a veterinarian doesn't have to perform, but things that people aren't necessarily able to do or don't do because in order to get that done you have to pay an exam fee and then you have to pay for that service. Not everybody has that money available and also a lot of people just aren't able to leave their homes. I know a lot of older people they don't have vehicles, or they just find it very difficult to travel. I just wanted to be able to offer services where maybe people could give that care to their pets that they need. Older people specifically, they want to pamper their pets, but they are on fixed incomes. Sometimes that added expense, they just can't afford. I want to be able to be involved in the community because that is where my heart is. For me, It is about forming those bonds and relationships with people and being able to offer them things that they can't normally get otherwise."
Hopper says she feels comfortable with a wide range of animals from mice to horses and livestock. She owns a special needs dog as well as a tortoise, and she acquired both while working in animal control.
"There is really not an animal that I am not comfortable taking care of," says Hopper. "I am comfortable honestly with anything from snakes, reptiles, turtles, birds, dogs, cats, horses, goats, cows, kind of the whole wide range."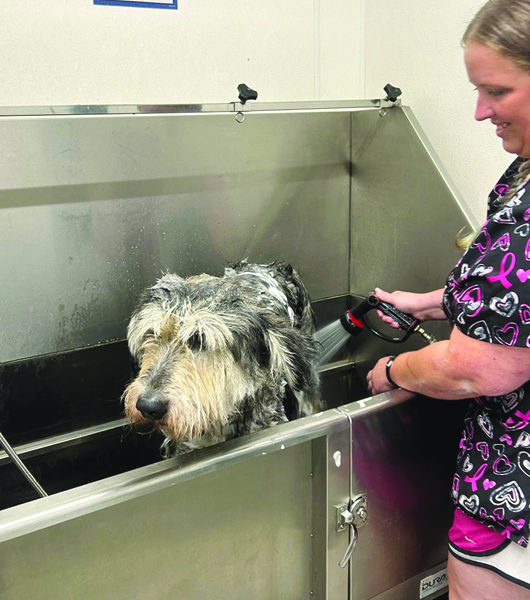 According to Hopper, the current goal of the business is to stay mobile.
"I have many clients that have farms," says Hopper. "A lot of people have large animals and without someone with experience there they don't get to go on vacation. They don't get to get away because; who is going to take care of the horses? Who is going to take care of the cows? Who knows how to take care of goats? I have that knowledge and I love large animals, so I am able to offer services that are not anything like what I know is offered around here."
Hopper says she believes people are shocked that she is willing to come to their homes to help their animals.
"The vet clinics are so short staffed that they also have a hard time taking on new clients and they don't have appointments," says Hopper. "Appointments are booked out for weeks and someone needs to fill in that time. I can do that and do something I love. Patients are more comfortable in their house. If I need to spend thirty minutes to do a nail trim that's okay versus at a vet clinic, they don't always have that extra time. It's just a little more of a stress-free environment. I am not on a time constraint."
As of right now, one thing that Hopper does not offer is grooming.
"I've had a lot of inquiries about grooming, but I am not a groomer," says Hopper. "I am thinking that might be something I want to start looking into. Groomers are booked out really far, so people who own dogs that have very high maintenance coats are now having matted up dogs that are having to get shaved. I can do the shaving, but I would like for them to be able to maintain. I have been kind of entertaining the idea of maybe learning some grooming."
Hopper also wants to eventually convert her horse trailer to a mobile pet care station.
"That is way farther in the plan," says Hopper. "It's not happening any time soon, but being able to have mobile bathing and stuff, that's the goal, but it takes a while to kind of pick up and get established."
According to Hopper, her favorite part of her job would be meeting the different animals and people as well as educating as she goes.
"I have found that there is a lot of educating that is going along with the clients that I do have," says Hopper. "I can voice things that they don't necessarily know and things that they don't realize being an issue or concern. I have come across different concerns and I have been able to steer them because I do have veterinary experience. I am not a veterinarian and I do not diagnose or anything like that, but I am able to recognize some things and say hey you might want to talk to your vet about this or you may need to keep an eye on this. I have even been able to help with different training tips and advice. I just love educating, meeting new people, and establishing different relationships in order to help people have easier lives."
Hopper is adamant that this is a business she established to help the community.
"It is not just a business," says Hopper. "I want to be able to help people be happier with their pets. I want their pets to be happy. I want to be able to offer more than just a nail trim at their house, but be able to help make their lives easier. People usually have pets because they make them happy. If there's little things that are upsetting them with their pet, and I can help them with that I want to be able to offer that as much as I can."