By mark stowers • Photography by Roy Meeks
Peyton Potter was born into farming in Washington County and he's the third generation to toil the Delta area acreage that that continues to provide for his family. Growing up on his dad and grandfather's farm, the forty year-old Potter followed along in the path they made on the turnrow and has done so for twenty-five years. His father and grandfather are both deceased , and now Potter gets to make the decisions but has kept most things the same.
"Our farm is on Highway 438 in Arcola with some on the east and some on the west. I enjoy being outside and  working outdoors. I don't know that I would enjoy an office job, but I guess I could if I really had to," Potter says.
"My father and grandfather were big cotton farmers, but now I farm corn and soybeans," he adds.
And he's working to bring up the next generation of Potter farmers by giving them tasks to help out.
"My oldest son helps me punch poly pipe, and the rest of the family thinks they're helping me punch poly pipe," he says with a laugh.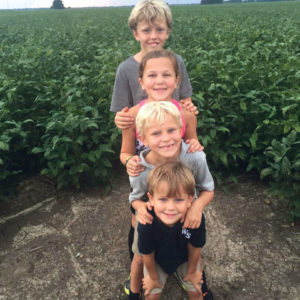 His wife, Rebecca, keeps up with the four Potter children—son Riley, thirteen, daughter Maddie, eleven, son Jacob, nine and son Thad, seven.
Working the full acreage, Potter has help from his manager Greg Morlino, and has a blend of farm machinery with no particular brand allegiance.
"Since Greg and I are managing 2,500 acres, the most important thing is to have a piece of equipment that runs effectively," he says. "It doesn't matter to me what color it is."
Potter really enjoys technology, and handled that side of things when his father was still alive.
His acreage is all irrigated, and Potter enjoys the benefits of that technology and keeps up with the metering while counting pennies. This is a different mindset from the past generation.
"During my father and grandfather's era everything was we want high yields regardless of the cost, now we try to farm by regulating cost, which will hopefully result in a higher profit," Potter says.
His favorite part of  farming is being able to work outside, and not being restrained by a cubicle. But the hardest part of farming does require a bit of indoor work dealing with finances.
"I prefer the field side of things over dealing with the business side, but I know the business side is a huge part of farming, obviously. My wife did the books for a while,  but four children have put a damper on that, so I fell back into the book position."
Potter says however, that working directly in the field helps any farmer manage his books more effectively.
"It's beneficial because you need to know what's going on in the field in order to do the books correctly," he says.
The third-generation farmer took classes at Mississippi State and then graduated from Delta State with a General Business degree.  But he knows to be successful it is important to rely on a team of experts in their own field.
"I'm surrounded by a network of good people, and that helps a lot. An accountant, my seed and chemical rep, and my labor. Without them, I don't know what I'd do," says Potter.
Potter has found that with four children there's not much free time to hunt and fish and pursue other non-farming hobbies. But he has found a family activity they all can partake in.
"The kids race motocross," he says. "We spend our weekends in Louisiana for the most part, my daughter races four-wheelers, and all the boys race dirt bikes."
The Potter family—working hard and playing hard in the Delta dirt.