By Becky Gillette  •  Photography by Charlie Godbold
In the 200-mile radius around Tunica where Pride of the Pond catfish is distributed, there is a lot of competition from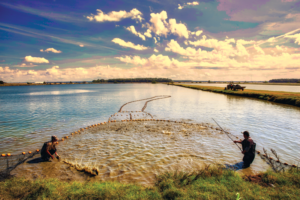 other catfish producers. But some restaurant operators who have sampled catfish from many different sources say you can't beat Pride of the Pond catfish.
Catherine Howe, manager of the Blue and White Café, which has been in Tunica since 1937, agrees with many of the producer's customers that Pride of the Pond is the best catfish there is.
"It is all we serve," Howe says. "Our customers ask us and expect us to serve it and we are happy to oblige. We take great pride in the fact that it is a local product and it never disappoints."
Most restaurants have to be content with frozen catfish, but because of the close proximity to where it is produced, the catfish at Blue and White Café is fresh.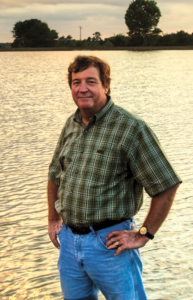 Pride of the Pond is a family operation in Tunica headed up by Bill Battle. His father, Paul Battle Jr., started catfish farming when the industry was in its infancy in 1969.
"My mother's name was Norma Battle and she was the bookkeeping brains behind the operation," Battle says. "Father was on Tunica County Board of Supervisors for thirty-six years. When he didn't run anymore, they named the Tunica Exposition Arena after him."
Battle has about 1,000 acres of catfish ponds and a processing facility. In all, he employs about 120 people. The processing facility is small compared to many.
"We do about 8-12 million pounds of product a year," Battle says. "Some big companies do ten times that or more. We don't really want to be the biggest. We just want to the best."
Off flavor can be a problem in catfish, and one that will turn off customers. Battle said they take multiple samples of each pond before harvest, and then go to the trouble of holding the harvested catfish in fresh water so they can purge any mud or algae picked up when they were harvested.
"Unlike a lot of the plants, we hold them and purge them for several hours and sometimes overnight before we process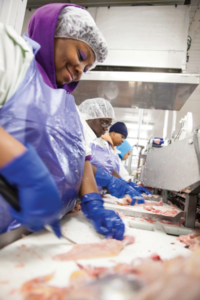 the fish," Battle says. "That is kind of an expensive process because if a fish is injured or whatever, he can die in the meantime and they also shrink in the vat. But we felt like it was an even trade to have the highest- quality tasting fish we can."
They test samples off the truck when it gets to the processing plant and test random samples out of the truck again when it gets to the freezer.
"We have one lady who does all our sampling who is a super sensitive taster," Battle says. "We also keep a history on how each pond tastes. We sample it throughout the year even though it may not be ready for harvest. You can catch problems early and just because you catch a sample and it is on flavor doesn't mean the whole pond is on flavor. You have to catch enough to make sure the whole pond is on flavor."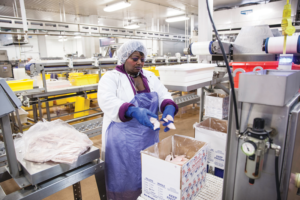 Pride of the Pond was founded in the fall of 1982, and processed its first fish in 1983. All the fish are grain fed, and hormone and antibiotic free under USDA supervision. They are processed at a plant on Highway 4 in Tunica. About sixty to seventy percent frozen of the catfish is frozen, and thirty to forty percent is fresh.
"We just try real hard," Battle says. "We are a family farm and family business. We like catfish ourselves and are disappointed when it is not good. We feel other people are disappointed when it is not good, also. We raise it like we are going to eat it ourselves. Some of these big companies push their standards down a little. We pay attention to detail as far as the flavor profile and the quality of the product. That is the most important thing to us."
Battle is partners in the operation with his brother, Paul, who oversees the farming part of the operation that produces soybeans, cotton, rice and corn.
Battle has been married to Lynda Battle for thirty years, and the couple have three children. Their oldest son, Houston, works on the farm and the second son, Cooper, works on the farm and some at the processing plant. Their daughter, Betsy, is a dental assistant.
For more information, see the website http://prideofthepond.com/.